Infant I: Age 6 weeks – 12 months
Infant II: Age 12 months – 18 months
Your baby will be cared for by dedicated and experienced teachers, who form deed bonds and develop trust with each child in a safe place to grow and learn. Infant teachers talk and sing with your child during feeding, diapering and playtime. This interaction helps your baby to understand language and conversation.
As your infant grows and changes, we make changes too, so development and learning unfolds naturally. Our shelves are lined with age appropriate toys and materials that get your infant moving and learning.
Hawthorn Academy introduces your infant to group activities in order to start building socialization skills. We also make sure to individualize the care we give to your child to nurture trust and self-esteem.
We encourage partnerships with parents to get an understanding of what is most important to your family and tailor you infant's experience accordingly.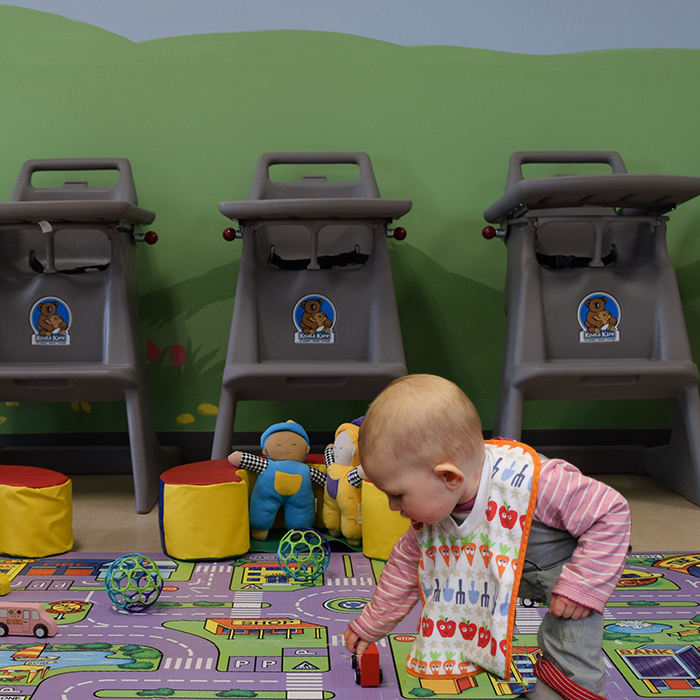 Sample Infant Daily Schedule
6:30 – 8:00 Arrival/Greeting/Play
7:00 – 8:30 Handwashing/Morning Snack
8:30 – 11:30 Diapers/Stories/Music/Play/Nap/Floor Time
11:30 – 12:00 Lunch
12:00 – 3:00 Diapers/Stories/Music/Play/Nap/Floor Time
3:00 – 3:30 Handwashing/Afternoon Snack
3:30 – 4:00 Outside Play/Large Muscle Activities
4:00 – 6:00 Diapers/Stories/Music/Play/Departure
Sample Infant Daily Schedule
6:30 – 8:00
Arrival/Greeting/Play
7:00 – 8:30
Handwashing/Morning Snack
8:30 – 11:30
Diapers/Stories/Music/Play/Nap/Floor Time
11:30 – 12:00
Lunch
12:00 – 3:00
Diapers/Stories/Music/Play/Nap/Floor Time
3:00 – 3:30
Handwashing/Afternoon Snack
3:30 – 4:00
Outside Play/Large Muscle Activities
4:00 – 6:00
Diapers/Stories/Music/Play/Departure