Our program welcomes the burst of excitement and energy that comes with the natural growth and development of being a toddler. However, while they are starting to become a little more independent, toddlers are still very dependent on adults to guide them through their language, social, emotional, and muscle development.
Our energetic and nurturing teachers implement a toddler designed curriculum which includes; songs, puppets, and finger plays to help with language development. Identifying, recognizing, and, matching colors, shapes, and sequences, which is an introduction to math. Social development is built through the use of transportation toys, dress up clothes, and dramatic play, which is implemented through group play, and encourages sharing and developing manners.
Daily sheets are sent home to parents informing them of their child's daily temperament and/or needs and any new behavior development.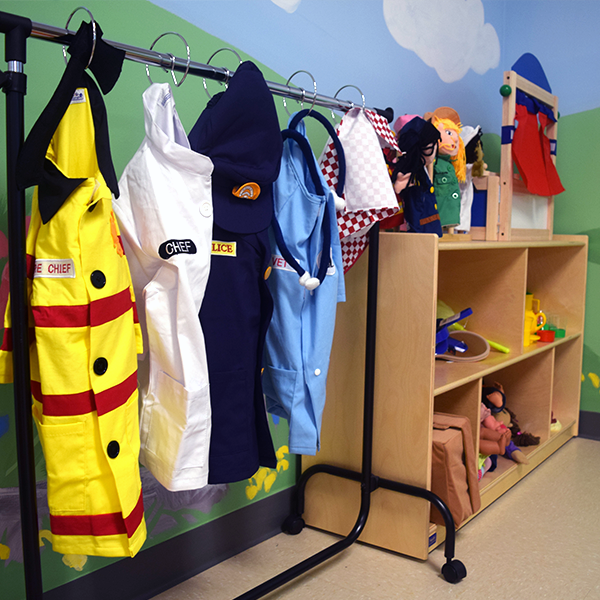 Sample Toddler Daily Schedule
6:30 – 8:00 Arrival/Table Top Choices
8:00 – 8:30 Handwashing/Breakfast
8:30 – 9:00 Clean Up/Breakfast/Diapers/Bathroom/Puzzles/Books
9:00 – 9:15 Circle Time
9:15 – 10:15 Creative Curriculum Time
10:15 – 10:45 Clean Up/Diapers/Bathroom/Puzzles/Books
10:45 – 11:15 Outdoor Play/Indoor Play
11:00 – 12:00 Lunch Time
12:00 – 12:30 Clean Up Lunch/Diapers/Bathroom/Puzzles/Books
12:30 – 3:00 Nap Time
3:00 – 3:30 Diapering/Bathroom/Handwashing
3:30 – 4:00 Snack
4:00 – 4:30 Outside Play/Indoor Play
4:30 – 5:00 Music & Movement
5:00 – 5:30 Diapers/Bathroom
5:30 – 6:00 Table Choices/Departure
Sample Toddler Daily Schedule
6:30 – 8:00
Arrival/Table Top Choices
8:00 – 8:30
Handwashing/Breakfast
8:30 – 9:00
Clean Up/Breakfast/Diapers/Bathroom/Puzzles/Books
9:00 – 9:15
Circle Time
9:15 – 10:15
Creative Curriculum Time
10:15 – 10:45
Clean Up/Diapers/Bathroom/Puzzles/Books
10:45 – 11:15
Outdoor Play/Indoor Play
11:00 – 12:00
Lunch Time
12:00 – 12:30
Clean Up Lunch/Diapers/Bathroom/Puzzles/Book
12:30 – 3:00
Nap Time
3:00 – 3:30
Diapering/Bathroom/Handwashing
3:30 – 4:00
Snack
4:00 – 4:30
Outside Play/Indoor Play
4:30 – 5:00
Music & Movement
5:00 – 5:30
Diapers/Bathroom
5:30 – 6:00
Table Choices/Departure